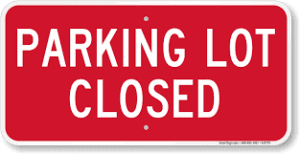 DUE TO DESTRUCTION OF OLD AND RECONSTRUCTION OF NEW PARKING LOT, WE MUST CLOSE THE OFFICE FOR THURSDAY, AUGUST 8 AND FRIDAY, AUGUST 9.
TERRI WILL BE AVAILABLE

, WORKING REMOTELY, BY PHONE (MAY HAVE TO LEAVE A MESSAGE WITH CALL BACK NUMBER) AND EMAIL. OFFICE HOURS WILL REMAIN THE SAME, 8:30AM – 5PM BOTH DAYS.
ALSO, PLEASE NOTE, THAT

BEN WILL NOT BE AVAILABLE

DURING THESE TWO DAYS AS HE WILL BE AT AN OUT OF STATE FAMILY FUNERAL.
WE APPRECIATE EVERYONE'S UNDERSTANDING AND WE ARE VERY EXCITED FOR THE NEW PARKING AREA!
THANK YOU,   BEN & TERRI